Skin quenching with secrets from the Amazon. Saving your skin and the planet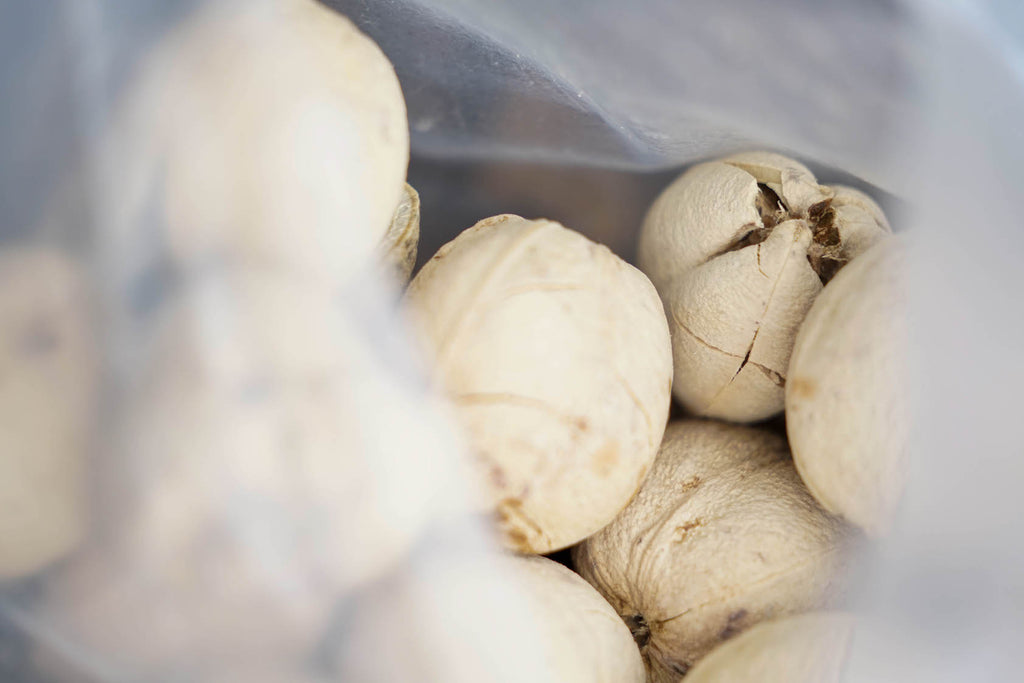 Sunshine in the UK may not be predicable, but the Summer months still bring the inevitability of over-exposure to UV, causing skin to feel unbalanced, reactive and parched. Yet we all want that dewy, juicy, plump and radiant skin that glows with health.
So how does our Pure Radiance Facial Oil help with hydration…oils don't hydrate!?
It may seem counterintuitive, but in fact choosing the right facial oil will actually help support hydration levels.
Our skin is like a brick wall; skin cells being the bricks and the lipid barrier (formed of ceramides and other natural moisturising factors (NMFs) such as essential fatty acids), the mortar. When the barrier is compromised and lipid levels depleted through environmental or lifestyle exposure; it enables essential hydration to escape.
Dehydration is common, regardless of your skin type. When TEWL (trans epidermal water loss) it triggers complexion crisis mode. The result for different skin personalities may be excess sebum production for oil-prone skin that overcompensates, causing congestion and breakouts; juxtaposed to dry skin becoming vulnerable to irritation, redness and inflammation.
Transforming skin luminosity
To obtain lasting skin radiance, it is important to tackle the cause of dullness, while protecting from further damage.  
Stimulating cellular turnover helps bring fresh cells to the surface. This helps minimise the appearance of hyperpigmentation, reduce fine lines and wrinkles which become exacerbated by dead cells that cling to the surface and magnify the appearance of uneven skin tone.
Our elegant solution contains a potent blend of actives including Bakuchiol. This powerful antioxidant helps protect the skin from damaging free radicals. A less irritant, naturally derived botanical alternative to Retinol, it helps soothe reactivity, firm, plump and tone the skin. 
Bakuchiol is partnered by a host of other skin-loving nourishing ingredients, including well-established Rosehip oil, along with a newer oil from deep in the Amazon.
From humble beginnings
Cacay nut oil is cold pressed from an unextraordinary looking nut that belies its astonishing capability to transform our skin, health, the welfare of communities gripped by conflict and the ecological wellbeing of the world.
Sounds quite a lot for a little nut to live up to doesn't it?
Cacay oil is nutritionally dense, boasting high levels of essential fatty acids and vitamins to restore and maintain skin health:
Vitamin A: a natural form of Retinol that boosts Bakuchiol to refine skin texture and tone by stimulating cellular turnover.
Linoleic Acid: 50% more Vitamin F, an omega-6 essential fatty acid, than Argan Oil! Helps fortify the skin barrier.
Vitamin E: 50% more than Argan Oil! Helps improve skin elasticity, optimise collagen and elastin resilience and replenish moisture levels.
It is not hard to see why this lightweight, easily absorbed liquid gold is on the ingredient hot list and a part of our skin transformative Radiance Facial Oil.
Transformative partnerships
The foundation of Olverum wellbeing is to work with partners who embody our philosophy of enhancing wellbeing and boosting confidence with extraordinary transformative product experiences. 
Pioneering full circle ingredient sustainability; our supplier initially used the other elements of the nut before discovering the potential for skin health:
Shell – bio fuel
Pulp – cattle food
Oil – originally used in protein supplements due to a nutritionally dense source of omega 3,6 and 9.
They operate a masterclass in sustainability. Fast growing with a long-term harvesting capacity, this tree is reaped predominantly in Columbia and is helping transfer fortune from illicit crops, reforest the maimed landscape through cooperative projects, while supporting disparate communities, ravaged by conflict. 
Through community initiatives and owned plantations, our supplier has reforested the equivalent of 50km2, 5000 hectares.
So maybe, just maybe a face oil can save the world?
Perhaps.
What is certain, is it can help save our skin by restoring resilience through a bolstered barrier function, preventing the damage caused by day-to-day living.